TD&H Provides Scholarship Endowments to MSU & Great Falls College
TD&H Engineering is making a difference in the lives of engineering students at Montana State University. Several years ago, we created an endowment that provides an annual scholarship for students like Matthew Campbell.
And, just a couple of years ago, we started contributing to a similar endowment at the Great Falls College, for their 2+2 program that allows students in northern Montana to get their core requirements in Great Falls and then transfer to MSU Bozeman to finish their engineering curriculum. We are proud to support our profession with these scholarships and want to congratulate the students that are putting in the hard work!
Matthew Campbell is the 2016 recipient of this scholarship. He's from Juneau, Alaska and is majoring in Civil Engineering with a minor in Music. His dad is a licensed civil engineer who works as a general contractor in Alaska. Matthew grew up surrounded by construction and heavy equipment and has fond memories of riding in backhoes and excavators, visiting construction projects during and playing with countless Tonka trucks. "As I made my way through middle & high school, I realized I had an affinity for math, science, and applied technology. Once I was accepted to Montana State University, and the time came to choose a major, the decision seemed quite obvious to me!"
He stays busy with Engineers Without Borders, Peer Advising Leaders, Engineering Ambassadors, Chi Epsilon Civil Engineering honors society, and the Association of General Contractors. As a clarinet and saxophone player, he is involved with the School of Music, Spirit of the West Marching Band, Wind Symphony, One O'clock Jazz Band, University Band, Lab Jazz Band, Saxophone Choir, and Bobcat Pep Band. He's also taught music lessons to middle school students through Arts Without Borders.
He traveled to Khwisero, Kenya with Engineers Without Borders to build a composting latrine for one of the primary schools in the region.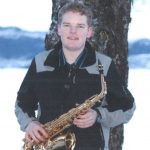 "As a scholarship recipient, I feel deeply honored. The scholarship I received will reduce the financial burden on myself and my family. This allows my family to better focus on providing the same educational opportunities for my younger siblings. To me, this scholarship comes with responsibility. I want to ensure that I honor the donors of this scholarship by performing well in school and giving back to the MSU community in whatever ways I can."