Looking to join a dynamic team of individuals at TD&H Engineering? We're looking for candidates who are team players, exhibit leadership potential, have strong people and communication skills, self-motivated, have a commitment to producing high-quality work and a desire to take on the challenges and opportunities that exist.
TD&H is an equal opportunity employer with offices located in Great Falls, Shelby, Bozeman and Kalispell, Montana; Spokane, Washington; Lewiston, Idaho; Watford City, North Dakota; and, Media, Pennsylvania.
Explore our current career opportunities available at our different locations in Montana, Washington, Idaho, North Dakota and Pennsylvania in the sidebar to the right.
Applications are accepted online and require an uploaded resume and cover letter. Any questions about the hiring process can be directed to TD&H Corporate at (406) 761-3010.
The Great Falls, MT office has an excellent opportunity for a full-time Civil Engineer. We have been around since 1965…
READ FULL JOB DESCRIPTION >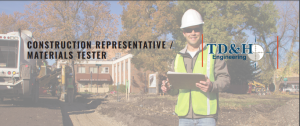 Our Bozeman, MT office has an immediate Construction Representative opportunity. The Bozeman office has a fun group of hardworking engineers,…
READ FULL JOB DESCRIPTION >
Our Media, PA regional office is seeking a full-time detailer/designer for our precast concrete/ structural engineering department. The position is…
READ FULL JOB DESCRIPTION >
The Great Falls, MT office has an excellent opportunity for a full-time Senior Civil Engineer. We have been around since…
READ FULL JOB DESCRIPTION >
The Helena office has an excellent opportunity for a full-time Entry Level Structural Engineer. The position offers a great variety…
READ FULL JOB DESCRIPTION >
The Great Falls and Helena offices have an excellent opportunity for a full-time Structural Engineer/Project Manager that can work from…
READ FULL JOB DESCRIPTION >
The Helena, MT office has an immediate opportunity for a Quality Control Manager with heavy civil construction experience. The Helena…
READ FULL JOB DESCRIPTION >