---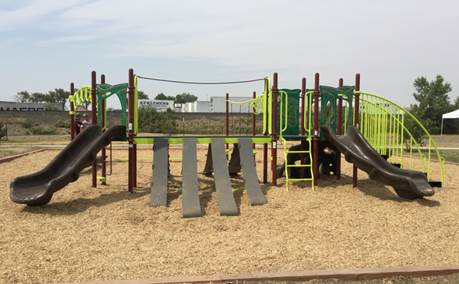 Approximately 200 volunteers from TD&H Engineering, Blue Cross Blue Shield Montana, Malmstrom Air Force Base, Parks & Recreation and other community members built a new KaBOOM! playground at West Bank Park in Great Falls, Montana on a Saturday in August.
From moving mulch and mixing concrete, to assembling and installing the playground features, the community volunteers created a new play opportunity for kids in just six hours!
The nature-themed playground features monkey bars, slides, and a "rushmore," which simulates play on a hill with climbing and tumbling sloped surfaces.
The project also included a shade structure, picnic tables, and trash & More >
Posted on August 31, 2017 by TD&H Engineering
---
TD&H CEO, Dave Crawford, and Craig Woolard, Bozeman Public Works Director, construct a shelf for Belgrade School to house resources for the homeless.
Posted on July 31, 2017 by TD&H Engineering
---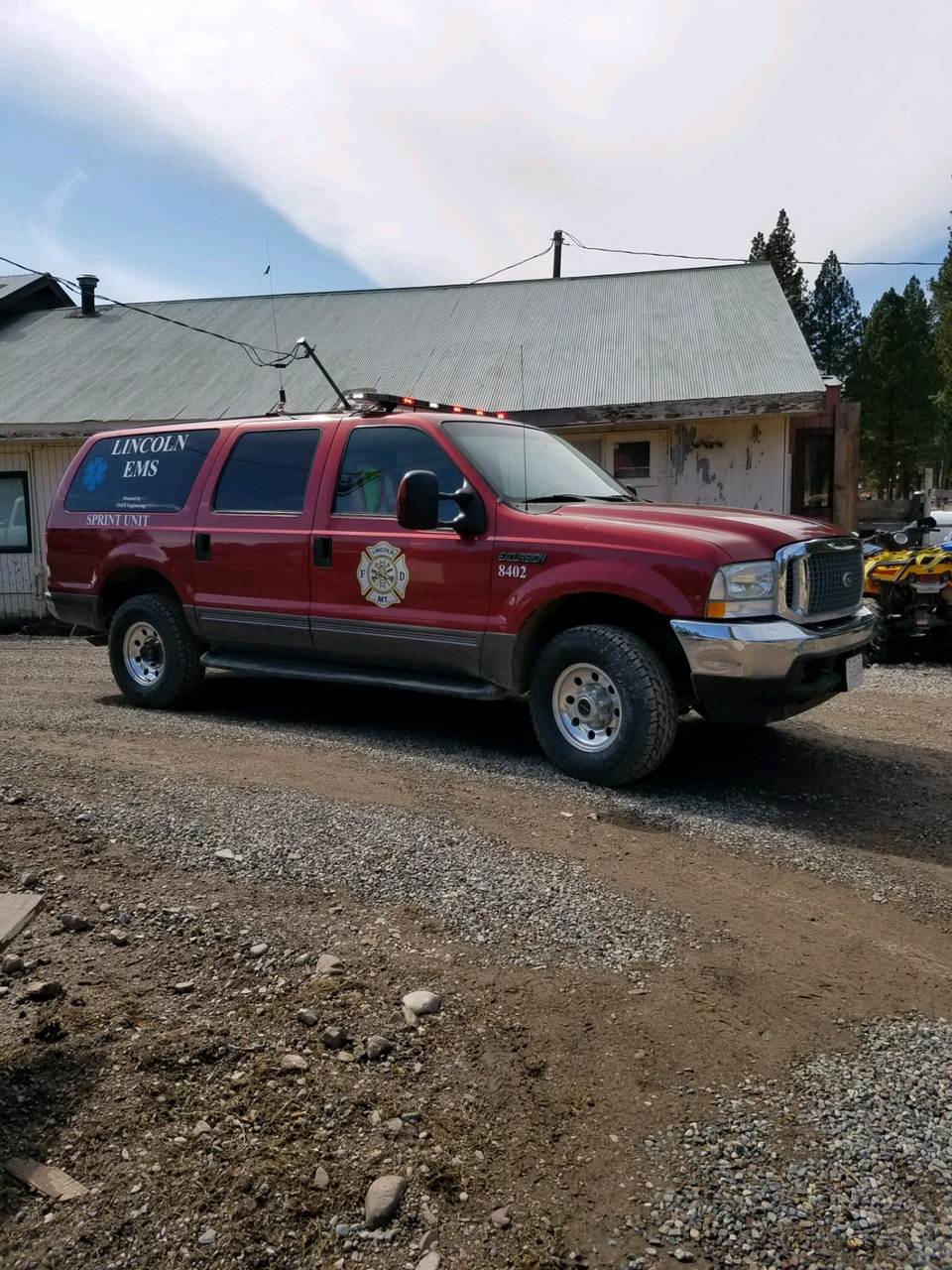 Vehicle donation s expected to greatly reduce response times for medical emergencies in the Upper Blackfoot Valley, and allow responders the capability to reach areas an ambulance or the Fire Department's rescue truck may not be able to get into.
Posted on May 2, 2017 by TD&H Engineering
---
The Great Falls office had several staff members present hands-on activities at the STEAM Expo (Science, Technology, Engineering, Art, Math) at Great Falls High School on Saturday, April 1st. Many students participated in the "Slender Tower Challenge" and almost all of them made robotic hand models. What's the best height/width ratio you can get for a tower built with 10 sheets of computer paper and a roll of masking tape?
   More >
Posted on by TD&H Engineering
---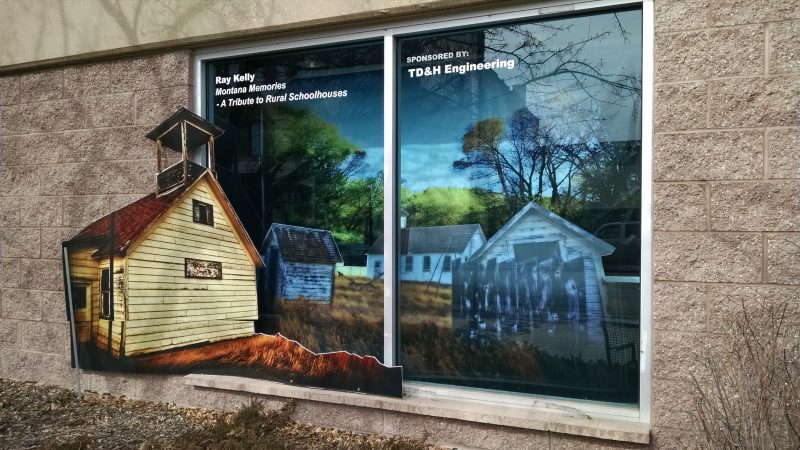 TD&H Great Falls had the opportunity to sponsor an art exhibit for the Urban Art Project. To enhance the downtown environment and honor the creative spirit of Great Falls, the Urban Art Project annually presents three exhibitions of site specific art installation pieces, which fill the eleven windows of the Great Falls Parking Garage, located at 315 1st Avenue South.
Montana Memories…A Tribute to Rural Schoolhouses
Artist: Ray Kelly
The population of rural Montana had an intense work ethic and a tremendous desire to provide a decent home and a quality education that would hopefully mean their children would have better lives than the parents. More >
Posted on March 27, 2017 by TD&H Engineering
---
TD&H Employees are very giving of their time to the communities in which they live. Some are involved in one or two things. Many are involved in multiple community service activities.
In 2016, employees gave over 4,600 hours of service in the communities we live….Great Falls, Bozeman, and Kalispell, Montana; Lewiston, Idaho; Spokane, Washington; Media, Pennsylvania; and, Watford City, North Dakota. Here are just some of the organizations and causes our employees support:
Coach basketball
Volunteering for ski team
Member of Whitefish Board of Adjustments
Community Soccer organization board member
Coach wrestling
Mentor high school students
Walk for causes
President of NW Montana Historical Society
Museum at Central School
Member of P.E.O. More >
Posted on January 5, 2017 by TD&H Engineering
---
Our Great Falls office sponsored a room in Grace Home, the new transitional housing facility for homeless veterans.
Posted on December 29, 2016 by TD&H Engineering
---
TD&H is a commercial sponsor for the STEAM Expo in Great Falls.  Our Great Falls office sets up a booth with activities for the kids that attend the Expo. This year we had opportunities for the kids to build bridges out of straws and tape and then test their bridges with weights. Or they could choose to design a park, with stickers and markers.  The kids enjoyed the interactive activities and we are able to share with them about careers in the engineering field.
Read the Great Falls Tribune news article More >
Posted on April 5, 2016 by TD&H Engineering
---
TD&H Engineering invests in engineering scholarship opportunities at Great Falls College MSU, by endowing $25,000 to support the 1+3 Engineering program.
The TD&H Engineering Scholarship Fund will support students who are pursuing an engineering degree. This scholarship supports the student in their first year of engineering classes while at Great Falls College MSU and opens the door to the student transferring to MSU to complete their engineering degree.
"All of us here at TD&H are thrilled to support students going through the 1+3 Engineering program at Great Falls College MSU," says Wade DeBoo, Regional Manager of TD&H. "As engineers, we need to support programs like these that are growing our field, More >
Posted on February 26, 2015 by TD&H Engineering
---
Engineers and their families located at our Watford City office in North Dakota joined the many volunteers from Watford City and McKenzie County in cleaning up the ditches and roadways throughout the area.  The event started at the McKenzie County Veterans Memorial Building where volunteers could pick up their supplies and safety gear.
The TD&H Team picked up both the east/west ditches of US Highway 85 for a 1.5 mile garbage littered stretch of road from Patten's Bridge north up to M&M Trailer Park – both sides of US Hwy 85.
The collaborative effort cleaned up over 10 miles of highway and collected over 8 tons of garbage.  More >
Posted on May 27, 2014 by TD&H Engineering
---
TD&H Engineering is again sponsoring the Science, Technology, Engineering, Art, and Math Expo (STEAM) on March 29, 2014 from 10am-2pm at the Great Falls High Field House.
This FREE event is a chance for the whole family to enjoy the STEAM Expo and Earth Day Celebration.  There will be games, activities, informational booths and student projects on display.
TD&H Engineering will be demonstrating structural and geotechnical engineeering, and kids will have the opportunity to be a landscape architect!
For more information you can click here or visit the Great Falls Public Schools Website. More >
Posted on March 3, 2014 by TD&H Engineering
---